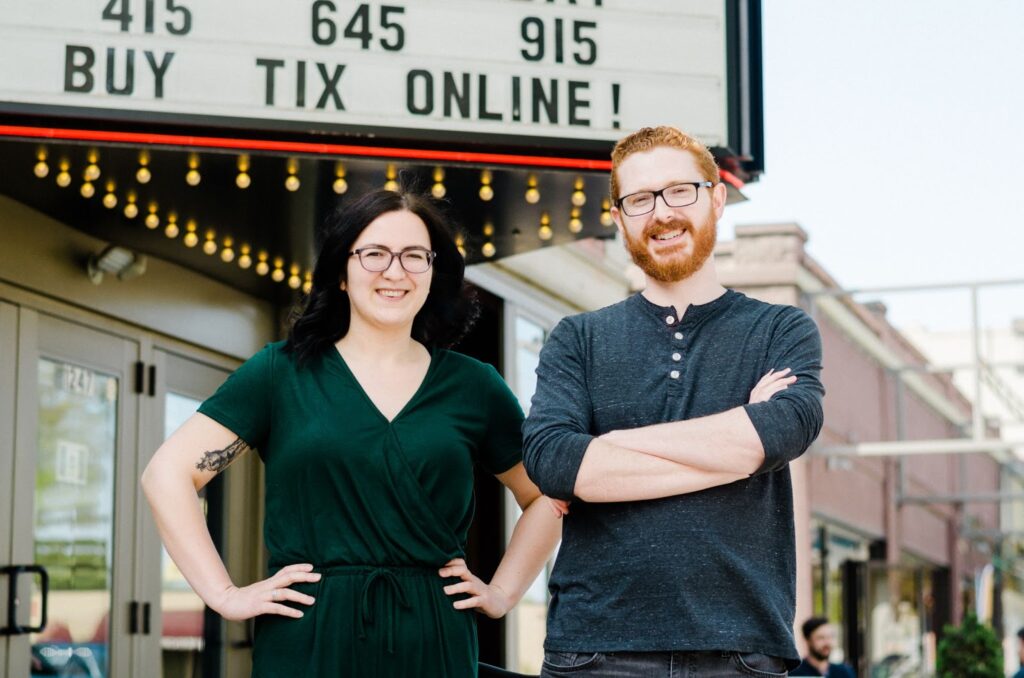 What degrees are you pursuing at the KSU iSchool?
Eric: Master of Library and Information Science

Laura: Master of Library and Information Science
Tell us a little bit about your academic and/or professional background and areas of focus.
Eric: Metadata, cultural heritage informatics, and information management.

Laura: I've been working in public libraries professionally for the past ten years, but academically I have focused my coursework on archival studies, with a particular emphasis on metadata structures, conservation and preservation.
You're both interning with the American Film Institute. What's that like? What are you working on?
Eric & Laura: For the Spring semester, we were fortunate enough to have been accepted into a Remote Archival Internship with AFI, the American Film Institute, where we helped to create descriptive metadata related to digitized and born-digital materials. It was a challenging year to find available internships due to the pandemic, particularly remote opportunities, so it took some dedicated searching before we discovered this position through an online job posting for moving image archives. As the Louis B. Mayer Library at AFI remains closed to the public, they were forced to adapt their internship program to a new model, allowing us to participate through a unique online platform.

With AFI, we have been responsible for organizing print, photographic, and moving image materials (seminar transcripts, audio and video files, production materials), as well as creating and arranging metadata in a collaborative setting with other archival professionals. This involved defining, representing, and managing metadata electronically as it relates to physical holdings, incorporating AFI's catalog of film history and educational resources into the broader information landscape. We also addressed existing metadata and archival holdings through several data clean-up projects, which required us to create organizational spreadsheets, cross-reference multiple databases of information, and to consolidate the institution's previous efforts in collection management.
What iSchool classes have you enjoyed the most?
Eric: All of Dr. Zeng's classes! Specifically, Cultural Heritage Informatics, Knowledge Organization Systems, Linked Data, and Metadata Architecture and Implementation, which were all immensely helpful in expanding my understanding of and passion for metadata. I would also like to shout out both Preservation and Conservation as well as Foundations of Museum Studies for being a lot of fun and for giving me a greater perspective of what archivists are truly capable of.

Laura: I agree with Eric! All of Dr. Zeng's classes were fantastic and I really discovered a love for working with metadata and information organization in Metadata Architecture and Implementation. I also feel fortunate to have taken some wonderful elective classes, and particularly enjoyed Preservation and Conservation and The Special Library.
What issues related to information interest you most?
Eric: As an LIS graduate student, I have come to value the importance of metadata and to appreciate its ability to preserve our historic and artistic achievements. Future generations may now have the same opportunity to learn and grow from the influence of these achievements as we have, and I hope to use my education, experience, and passion to ensure their legacies live on.

Laura: Following the Cultural Heritage and Informatics pathway in the program, I have always been particularly interested in issues related to preservation of heritage collections and archival holdings, but also in creating and facilitating information access for these physical collections. My classes at KSU have helped to show me how to utilize information organization and metadata in addressing these issues, and I hope to continue to pursue this in my future career.
Are there any websites, apps, podcasts or other resources you'd recommend other students explore?
Eric: For those with any interest in the field, the podcast Archivist's Alley is a fantastic resource for what's happening in the industry and a really fun listen to boot!

Laura: While it has a somewhat narrow focus, I've found The Association of Moving Image Archivists (AMIA) website to be an incredibly useful resource for anyone interested in information roles in the film industry and related fields.
How do you like to spend time outside of work?
Eric: Hiking, biking, and really just being out and about as much as possible. Far too often, in information professions, I feel you can get caught up in the digital world and lose sight of what's going on around you, so it's important to have a healthy outlet to the natural world and to stay grounded in the here and now as much as you can.

Laura: I try to get outside as much as possible; we're fortunate to have a fantastic metroparks system in central Ohio and I love to hike when I get the chance. I also love going to the movies, and hope that I get the chance to be back at a theater soon!
How do you balance school with work and/or home life?
Eric: Lots and lots of meditation.

Laura: I try my best to create separate spaces for each, and set aside time for myself as well. Working in a library while also being in school can oftentimes feel overwhelming, so it's important to me to establish a schedule that prioritizes time to de-stress, usually by getting outside and spending time with friends and family.
What career paths are you considering?
Eric: Professionally, I'm hoping to build a career as a research librarian and archivist with a particular emphasis on metadata and cultural heritage informatics. Through this incredible opportunity with AFI, I've been able to experiment with and merge my passions for education and art history, and it's my goal to create a pathway which would allow me to continue that work for as long as I can.

Laura: I'm open to whatever opportunities come my way, but I would love to be in some type of archival setting and it would be amazing to find a career in the film industry similar to the metadata work I was doing for the AFI internship. I'm excited to start exploring the different roles available for information professionals in cultural heritage institutions.
Do you have any other advice for other students?
Eric: Take as many classes with Dr. Zeng as you possibly can!

Laura: Be persistent about looking for opportunities that you're passionate about. Information professionals occupy roles in so many different fields and organizations, and my internship has helped show me that I can pursue and find work that inspires and challenges me.