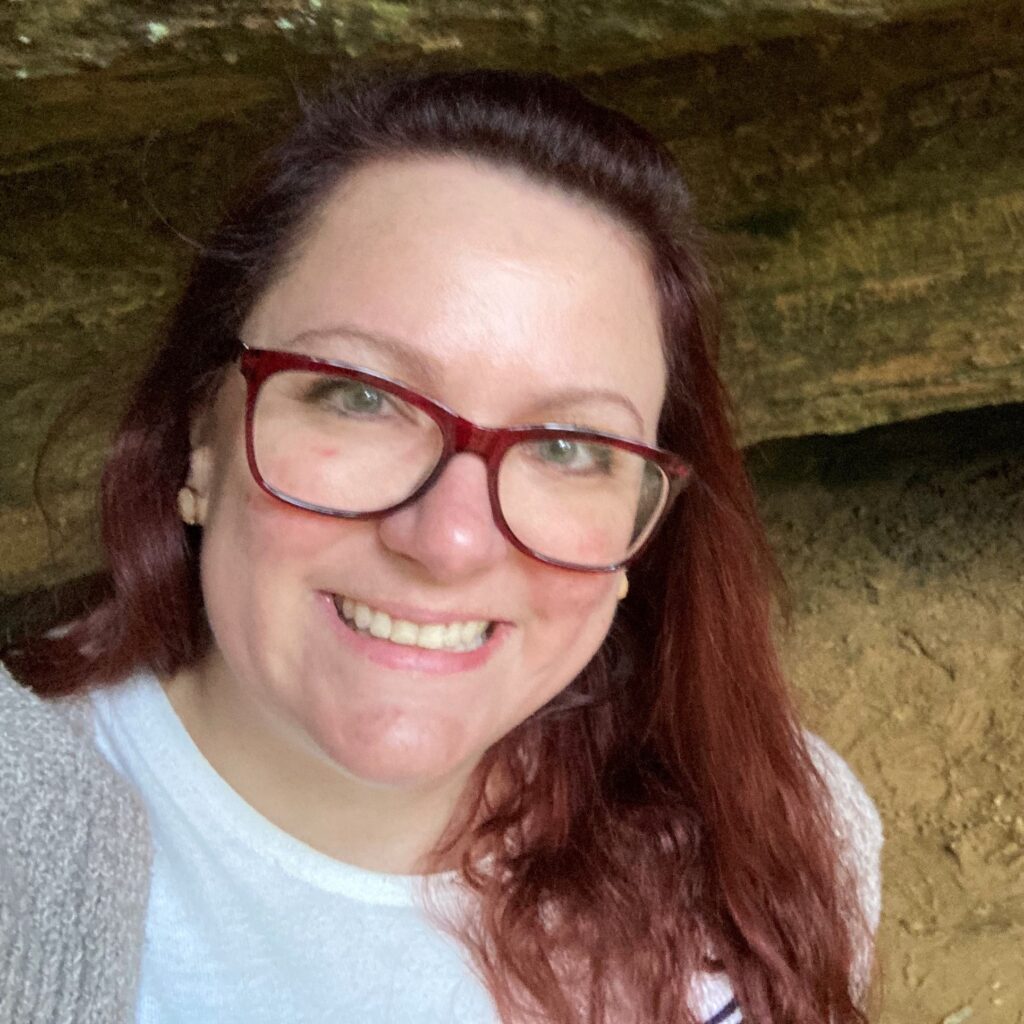 iSchool Graduation Date
2012
Professional Organizations/Affiliations
ALA, ALSC, RUSA, CORE
Current responsibilities/How are you using your information skills?
Branch Manager at DeHoff Memorial Branch of Stark County District Library (Ohio). I am also a doctoral student at the University of Dayton.
What is the best professional advice you can give?
Get involved, meet your peers, and stay current on emerging research and best practices. Listen to others and be part of professional conversations. Your voice is powerful—use it!
How do you encourage innovative ideas?
I try to support myself, my peers, and my staff by trying (almost) anything once! The best thing a supervisor ever did for me was give me the space and support to safely fail. I have always been uncomfortable with the idea that "We've tried that before and it didn't work." Time changes our reality and circumstances are never the same! I encourage innovative ideas by asking my team to provide their rationale for trying a new program and service and then provide them the encouragement and support to try it! I also encourage them to trust their instincts and give their ideas the chance to flourish and shine!
Do you have a mentor? How have they influenced you?
I have had numerous mentors throughout my career, and I try to connect with people that encourage me to be my best self and the best librarian / manager / leader I can. I have one mentor in particular that not only encourages me to stretch myself professionally, stay current on research and best practices, and articulate, plan for, and meet my goals. Best yet, he respectfully discusses obstacles I have, how to navigate my professional growth, and helps me to see differing perspectives. It's reassuring to have someone that will cheerlead and support me and my journey!
What do you wish you had done earlier or more often?
I wish I would have felt more confidence in my voice and my skillset earlier in my career. It is still a struggle at times to feel confident that my instinct and perspective are equally worthy and on-par with my peers. It has taken me years to better understand my perspective and outlook and how these values influence my work. I wish I had been able to better articulate my arguments and opinions earlier in my career so I could feel less like an imposter and feel more confident in my professional identity.
How and where do you find inspiration?
I find inspiration in the people around me and the materials I interact with. My team at the library and the community I serve inspire me every day! They hold me accountable, encourage me, and help me be my best self. My kids (Jackson: 10, Parker: 9, and Amelia Jane: 7) remind me of the value of the work I do and inspire me to create a more just, inclusive, and equitable society for them to find success. Those who know me know that I try to avoid "digging in my heels" and constantly grow, change, and incorporate new information and knowledge into my thoughts and actions. The books I read, podcasts I listen to, and media I consume provides new opportunities to grow my thinking, and I am inspired by all of the creators in the world.
To what values are you committed?
All individuals are an amalgamation of their values, so listing just a few is challenging. Values that I am trying to focus on this year are equity, inclusion, and access. I fundamentally believe we are a better society when we encourage and include multiple voices and perspectives. It is our responsibility as community leaders and professionals to encourage and support equity in our society. Not every individual needs the same assistance in order to be successful. It is our responsibility to help others achieve success by supporting them in the ways they need. Hamington (2017) in the book Compassionate Migration and Regional Policy in the Americas argues in favor of "authentic responsiveness." I try to live that call to action. I try to provide access to information, services, and resources so I can be responsive to my community's needs and reduce barriers to success.
How do you balance your work and home life?
Not as well as I'd like! I often view my career as a librarian not as a job but as a calling. For me, this means that everything I read, everything I do, and everyone I talk to affect my professional role. As a kind peer once helped me realize, "Jo- being a librarian is not a job for you. It's your identity." While it is a wonderful way to be, it does mean that work/life balance is hard to maintain. I do make lists and set aside time for specific tasks, but I often find that my home and work responsibilities can blend over into each other.
What are some challenges that today's information professionals will face? And tomorrow's?
Librarians today and in the future will face the challenge of incorporating social justice ideas into the work we do. Our professional mores and ethics prioritize ideas of access, privacy, and intellectual freedom. By extension, ideas around equity, inclusion, representation, and diversity are critical to our profession. As we continue to serve as safe spaces in our community and challenge systemic racism and problems concerning the lack of representation, we will need to continue thinking critically about our actions, programs, services, and collections and how these facets speak to our values.
What websites, apps, podcasts, or other resources would you recommend to explore?
The Project Ready Project at the University of North Carolina is a must. The Association for Library Service to Children (and their blog) is a great resource for programming and research related to children's librarianship and working with families. I also highly recommend the Harvard Business Review. It offers great research round-ups and practical advice for leaders.
What is a book you like that you have to defend liking and what is a book you dislike that you have to defend disliking?
Let me begin by stating that I hate the reality that anyone feels they need to defend their preferences / thoughts about books. We are all unique and shaped by our conditions. For this reason, different books resonate with different people and that is not only "okay" but it is natural. #ventOver

I adore the Twilight book series by Stephanie Meyer. Not because it is a fantastic work of literature that should be taught in every academic English class, I adore the book series because I see myself and my inner monologue reflected in the pages. I have felt angsty. I have yearned for something magical in my life. I have loved those who weren't necessarily good for me. I have felt in my life that I didn't quite fit or there is a dissonance in my existence. Never before had I seen these thoughts and feelings articulated, and I read the series at a time in my life I needed to see these thoughts reflected. That is the power of literature and that is why I will always love this series.

Thinking about a book I dislike is a little more challenging. There are titles that I find overrated, but there truly isn't anything that I can't find value in or an audience for it. I'm a believer in "there is a reader for every book and a book for every reader".
---
Special thanks to the Kent State University iSchool Alumni Network for coordinating these profiles. Learn more about the Alumni Network on their Facebook page and group. Students are welcome to join and participate.