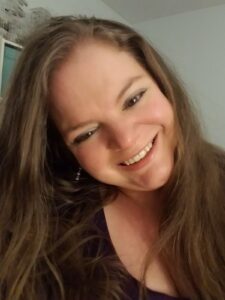 What degree are you pursuing at the KSU iSchool?
Master of Library and Information Science
Tell us a little bit about your academic and/or professional background and area(s) of focus.
I graduated Ohio State in 2009 with a BS in Human Development and Family Science. After realizing my initial career choice was a poor fit at the time, I spent the next 5-7 years teaching pre-K and preschool, working a retail job, and acting as a caregiving companion for an elderly family acquaintance. I eventually went back to OSU for a few postgraduate courses, starting with Manuscript Studies, which reignited my love of history and research. I started wondering if I could make some sort of career out of that, but without needing the language background. After talking to some of the university librarians, I decided to apply to Kent State's MLIS program.

It is funny because when I was around 10-12 years old, my mom had suggested that I would make a good research librarian. But like most preteens, my head was still in the clouds, where my career goal was to simultaneously be an actress/scientist/Girl Scout leader. (I did work for the Girl Scouts for a summer after graduating college!) The memory of her suggestion only resurfaced when I was writing my personal statement to apply to library school! Welp, life lesson learned.
You're interning with Ohio Outdoor Sculpture. What's that like? What have you learned during your internship?
My work with The Sculpture Center's Ohio Outdoor Sculpture database (http://oos.sculpturecenter.org/) has me and four other interns roving different areas in Ohio, hunting down public art pieces (within a set of parameters that took us a few months to tentatively settle on). I was given five southeastern counties to focus on (Athens, Hocking, Meigs, Morgan, and Perry). So, for the last four months, I have been researching, photographing, and cataloging outdoor sculptures, statues, memorials, half-buried Volkswagen Beetles, supposedly haunted cemetery figures, and tombs designed to prevent a spouse from dancing atop them. The day trips for photos have been fun, and in one case, utterly terrifying when Google Maps rerouted me down a partially-washed-away dirt road with a ditch on one side, a ravine/river/ (something I could not determine because I was too scared to take my eyes off the road) on the other, and very deep ATV/truck tire tracks that had solidified in the mud down the middle. There was also a downed tree or two and hidden mud-filled potholes, as the winter's ice and snow had only begun melting the day before. I spent 45 minutes on a 2.5-mile road, alone in a forest, with no cell service at all. I was not entirely sure I would make it to the end, and there may have been tears at one point. All because I diverted from my planned route to look at a memorial for a historical cemetery. Apart from that, though, it has been great. The program runner, Bill Barrow, has been awesome and supportive, and working virtually with four other interns has been great, although I am fairly sure we all regret that we changed our weekly Zoom meetings to 9 a.m. on Saturdays so we could spend the rest of the day taking photos. I have gotten to visit places I did not even know existed and learned about historical figures and events I had never heard of. As a born-and-raised Columbus girl, it was jarring to visit county seats that only had a couple of thousand people, but a good reminder that Ohio is more than the 3 C's of Columbus, Cleveland, and Cincinnati. Many of the smaller towns had gorgeous murals as opposed to sculptures and statues, as they are more accessible, achievable, and most importantly, affordable. While this project is not including flat murals in the database, I would eventually like to enter some of them online somewhere, as many of the rural villages need tourism, especially after this past year. The skills and knowledge I have gained from this experience has made me much more confident in contributing to online projects like this in the future.
What iSchool classes have you enjoyed the most? Did you have any favorite projects?
LIS 61095 Selected Topics: Information Services to Diverse Populations was one of my absolute favorite courses. It was a chance to gain insight to the information needs of communities that may only be briefly covered in other courses. The unit on people experiencing homelessness or housing insecurity was incredibly insightful, and it opened my eyes to challenges I had not previously considered.

I also enjoyed my LIS 60635 Cultural Heritage Informatics course, where we spent a semester thoroughly researching and cataloging a cultural object or location. It gave me the chance to indulge one of my biggest passions, historical research, while teaching me how to incorporate the information I found into actual records and metadata.
If you had one superpower:
Teleportation. Think how many places you could visit.
How do you like to spend time outside of work?
I spend time with my family and my two cats, Nemo and Dory. I like doing puzzles, researching my family's genealogy, and watching true crime and history documentaries.
Do you have any other advice for other students?
Be open to different opportunities, even if you are an introvert like myself or if you think you know exactly what you want to do. You never know what might interest you.