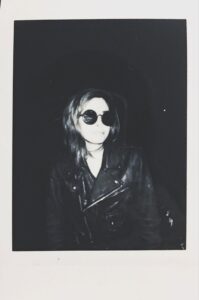 What degree are you pursuing at the KSU iSchool?
I am pursuing a Master of Library Science degree at iSchool and am graduating in May.
Tell us a little bit about your academic and/or professional background and area of focus.
My background is in contemporary art museums and non-profits, specifically within curatorial and collections departments. My main interest is in collections management and I love the marriage of art objects and information management that registrars and collection managers work in.
You're interning with Ohio Outdoor Sculpture. What's that like? What have you learned during your internship?
I'm currently completing an internship with the Sculpture Center's project, Ohio Outdoor Sculpture. It's a public online database of all outdoor public sculptures in Ohio. I initially discovered OOS for a course I was taking, Cultural Heritage Informatics. The course's culminating project was the creation of a metadata record and website for a public cultural heritage object in order to increase user discovery. I came across OOS when gathering initial information about my chosen sculpture, and thought it was a really fun and rich project with a lot of potential. Later on at the end of the semester I received an email from the iSchool calling for applicants to an internship with OOS, and I immediately signed up.

I've been able to work with the internship team to grow, expand, and update the OOS database, and even managed to do some outreach through a local news interview. It's great to collaborate with information professionals that have different specialties and areas of focus. I get to learn and grow from them.
What kind of projects or research have you been working on?
I've been working on a small-scale digitization project of Instax Mini photographs for my Digital Image Collection Management course that I'm very thrilled about. The photographs are from a collection of images documenting the disparate and converging Midwestern DIY art, music, and queer scenes. I'm also attempting to overhaul the Cleveland Cultural Garden sculpture entries in OOS in order to relate and link them all together in the last two weeks of my internship. It involves a lot of field work plus some old fashioned data entry which I love. Once you get in a groove, data entry isn't so bad.
What issues related to information interest you most?
Right now I'm really big into open access, Web 3.0 and Linked Data for my two digital curation courses. I am traditionally focused on digital and open access for art collections, any new ways for users to connect with art, either through gamification of metadata creation, crowdsourcing of information and tags from casual users, or mashups. Sophisticated automation is pretty interesting as well, though, as it removes the need for experts and allows casual users to carry out high level analysis of data.
How do you like to spend time outside of work?
I play in a band and like to play at bars around Cleveland, but have been taking up more dog-walking and video gaming during the pandemic.
What career paths are you considering?
I love to work directly with art, and my goal is to get a position as registrar or collections manager at a collecting art institution or special collection. Art libraries are just as exciting as museums so that would be fun, too.
Do you have any other advice for other students?
Information management is an exciting profession to be in considering the rapid and unrelenting technological changes and advancements. Blockchain processes, trustworthiness of information, crowdsourced metadata. . . the amount of overlap information science has with computer science isn't ending anytime soon. Find your niche in contemporary information management practices using STEM and stand out. Learn some web dev, take some SQL courses. You'll look relevant and competitive amongst your peers.
Is there anything else you'd like to share?
Information science is a hugely critical discipline to digital information, whose ease of access we sometimes take for granted. An MLIS doesn't limit you to the public library (shout out to public librarians!) and there are many exciting avenues to take in the MLIS program, especially for cultural heritage and STEM applications.