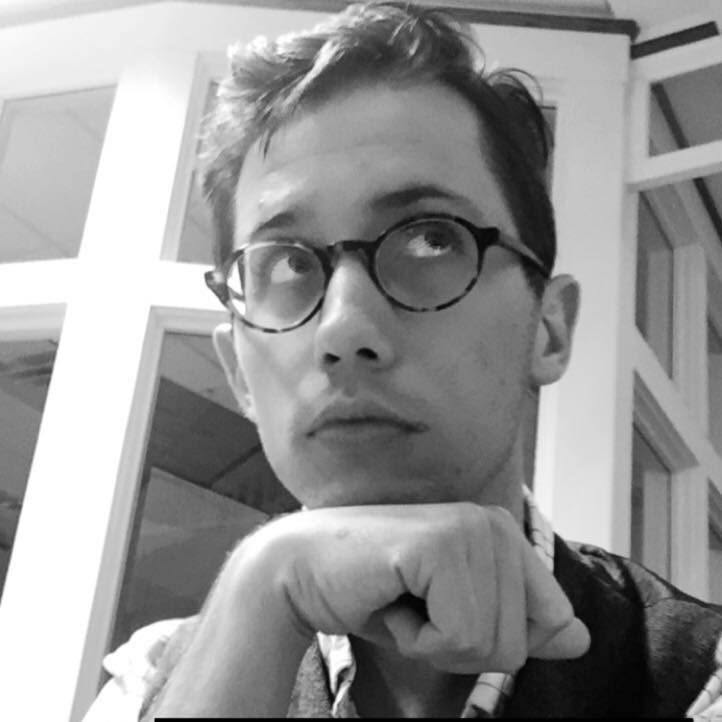 Tell us a little about your background.
My name is Brendan Latran, and I am scheduled to graduate at the end of 2020 from the iSchool with my MLIS. My journey to this point in my life has been unconventional, but during these times, "unconventional" is more ordinary now than it was a year ago.

I was born and raised in Long Valley, New Jersey, and I have a Bachelor of Arts degree in Film, Video, and Interactive Media from Quinnipiac University. I originally came to Kent State University to earn an MFA in Scenic Design, but after a particular project for the teaching assistantship I earned, I pivoted towards Library and Information Sciences; within a month I was accepted into the MLIS program. Since I started the program the realm of intelligence work, political strategy, knowledge management, and research librarianship has been the main focus of my studies.

Tell us about your internship site.
I interned at Bandwidth, Inc. as their first Information Heuristics Expert (intern) for the 2020 Summer, and I've been greatly honored to have my internship period extended till I graduate at the end of the year. Bandwidth is a software company providing "Software as a Service" (SaaS) for telecommunications across the country, for example in text messaging/notifications, emergency/911 communications, etc.

How did you find out about this internship?
I found out about the internship when I was searching for internships with the term "masters in library and information science" on LinkedIn. That really was the key to finding any internship opportunities for future MLIS students. If you can find a posting with that requirement, you should be relatively successful.

What sort of work did you do during your internship?
Mostly the work revolved around "problem-solving." I was given a business challenge involving knowledge management, and the capturing and sharing of tacit knowledge, and was told to research new tools and techniques. From there, I developed an "out of the box" solution that is modeled like an "old-school, OSS-like intelligence network" that can capture, discover, and synthesize new knowledge to be used by the company.

These proposed solutions have changed though since I've continued my work. More time on the project means I can go "deeper down the rabbit-hole" and discover things I hadn't come across yet. It is a far more complex challenge now, after discovering the inner workings of the AGILE Software Development process. I am now researching what I've deemed the "AGILEvolution" and trying to find out what the next stage to better capture tacit knowledge in an extremely dynamic workspace.

What was your favorite part of the internship?
I love puzzles, and that's exactly what this project is; a puzzle. The ongoing adventure of testing theories, and discovering new bits of information, always kept me interested. I was able to apply my skills towards a real-life situation and test out my work in an enterprise environment.

The people were amazing to work with. Despite the fact that everything was virtual (thank you, COVID), everyone was supportive and very friendly to me and the rest of the interns. They called us "Headliners" because the interns were doing really important work rather than doing typical "roadie" work (i.e. "getting coffee," and basic intern grunt work).

What is your advice to students looking to complete an internship?
PERSISTENCE. Another important thing I learned is that library and information science is a very diverse degree and a group of skills that can be applied to a wide variety of different jobs and sectors; especially, the private sector. Be open to the possibilities that you can do with your experience and the degree; don't just limit your potential to only one thing, apply to anything and everything.

The other thing that I want to share with any incoming students into the program involves the massive "up-turn" of our employment opportunities during the pandemic. I had the majority of my future jobs get dissolved during the pandemic (thankfully the internship was unaffected), but you need to keep in mind is that all of those events are out of your control; you can't do anything about it, and that's okay; that's how the world works. If you can't do anything about it, why are you worried about it? This isn't the end of the game, you're just going to need to be a little more creative and bold with your next move.

The best way to go after these problems starts within yourself. If your attitude is mostly negative, you've already lost. When I received the news about my future opportunities, I thought to myself: "Okay, a little bit of a setback, but I've lived and succeeded through much worse. We're just gonna need to hunker down and work hard." That would be my advice to you in working towards your success as a newly graduated LIS professional. And if you ever need advice, I am more than happy to help!