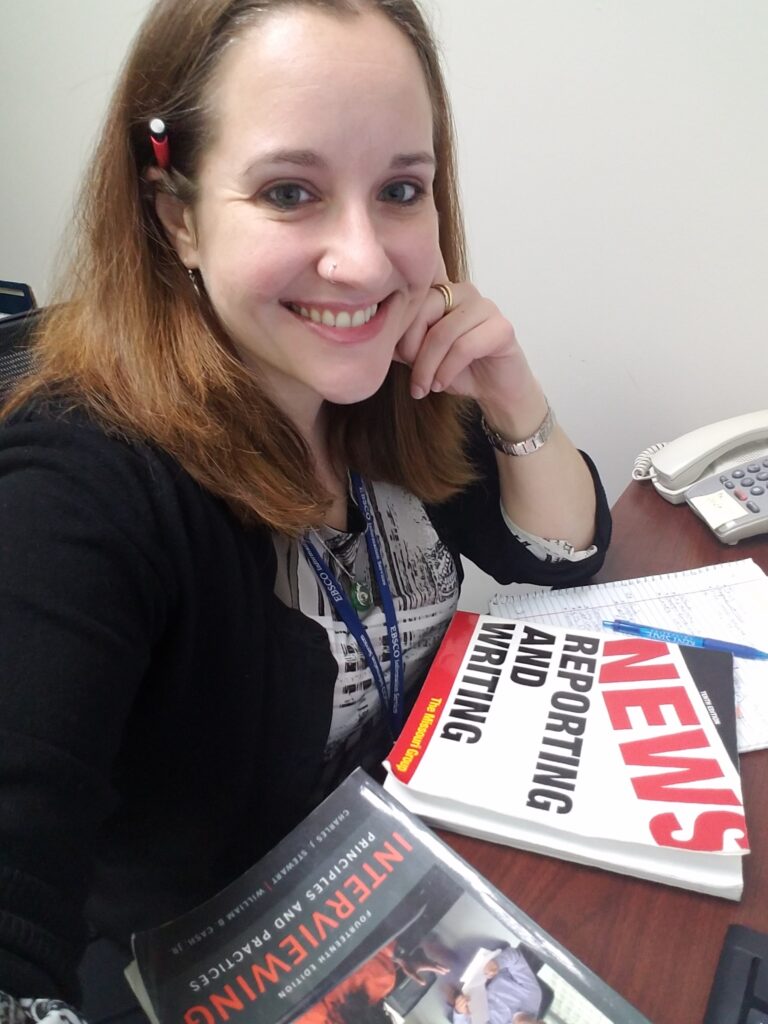 iSchool Graduation Date
2009 (MLIS), 2015 (Ph.D. in Communication and Information)
Professional Organizations/Affiliations
College Media Association
College Media Association Diversity and Inclusion Committee
Document Academy
National Education Association
National Organization for Student Success
Ohio Education Association
Proceedings from the Document Academy Editorial Board
Society for Collegiate Journalists
Society of Ohio Archivists
Current responsibilities/How are you using your information skills?
As an assistant professor of journalism and communication at Youngstown State University, I incorporate my "information skills" into every aspect of my position – which includes teaching, scholarship and service. This includes a) incorporating 'academic research best practices' presentations into all of my undergraduate and graduate courses in both fields, b) collaborating on numerous teaching and scholarly projects with librarians and archivists from the university's Maag library, and c) serving in committee roles where I can put my information and research skills to the best use of the goals of the committee (e.g. I am currently Communications Chair for the faculty union and in this role, I spend a great deal of time crafting messages based on research conducted to support the goals and needs of union membership).
What is the best professional advice you can give?
Librarianship and archival work is changing and so must you – be open to a variety of different positions and be on the lookout for 'out of the norm' professional development opportunities that could give you a leg up on the competition in newly created positions (such as digital content manager, social media manager, etc.). There are many exceptional and free professional development resources, and you have access to many of pay resources as an alum of the iSchool, so be sure to look into these and bolster your skills and talents whenever possible.
How do you encourage innovative ideas?
Through critical thinking and problem-based learning activities – many 'innovative ideas' come from a simple assessment of problems we face on a daily basis, so giving people the ability to consider these problems from an informed, research-based perspective often leads to fascinating, implementable results. For me, truly meaningful innovation comes not from thinking of something no one has ever thought about before in an area that doesn't yet exist – it comes from considering problems we experience daily or frequently from the perspective of different people, and using our skills, knowledge, and research ability to find constructive and implementable solutions to those problems for the benefit of the whole.
Do you have a mentor? How have they influenced you?
I am fortunate enough to have 'accumulated' many mentors over my life (or as Patrick Wilson would call them, 'cognitive authorities,'), and they all influence me in different ways. Those who influence me the most encourage me to keep learning, keep asking questions, and keep pushing forward on my ideals and motivations, inspiring others to do the same, while never losing the ability to be 'open-minded' and to admit that I am wrong and have more learning to do.
What do you wish you had done earlier or more often?
Found a way to cultivate my many passions in constructive and daily ways. Sometimes life gets so busy affording time to developing research in areas about which I am most passionate seems impossible – but I must make time. I am working on that now. As my favorite Edward Norton character "Smoochy" once said: You can't change the world, but you can make a dent.
How and where do you find inspiration?
From the incredible work and projects of my colleagues (such as KSU iSchool Alumni Network President Greg Stall) – I love hearing about the great works of others and how they are having numerous positive impacts on different people – success is inspiring but so too, in its way, is failure – learning what doesn't work to me is just as valuable as learning what does.
To what values are you committed?
Integrity, follow-through, and open-minded collaboration.
How do you balance your work and home life?
I'll let you know when I figure that out. 🙂
What are some challenges that today's information professionals will face? And tomorrow's?
Teaching others how to be critical thinkers and curious, responsible consumers (and proliferators) of information – misinformation and 'fake news' have been around forever, but social media and the 24-hour news cycle have given it a power and mass dissemination ability not previously experienced and this is causing chaos and, in the case of COVID-19 misinformation, great illness and even death. We cannot approach those who continue to proliferate misinformation as 'snobs' or 'arrogant know-it-alls' – we must always endeavor to find common ground and to be willing to understand the ecological information-seeking processes of others, so that we can learn how best to engage with others in imparting the skills of responsible information stewardship and acquisition.
How can the library remain important to the community?
By being responsive to the needs of its communities – and that means the WHOLE community. Encouraging participation of those in communities who are at-risk or in the minority is just as important as serving the needs of the majority within a community, and libraries must continually seek to be places of learning, where information can be explored from multiple perspectives and with the benefit of available resources that people can use to inform their personal decision-making. However, libraries cannot 'shirk' their duties by saying 'all information is equal' and by remaining passive or neutral on critical issues influencing and shaping today's societies (see comment: Encouraging participation of those in communities who are at-risk or in the minority) – libraries ARE political and they are not neutral. Racism and hate speech are not 'informed positions' – indeed, it is the lack of information that leads to ignorant perspectives and opinions. We do not have to actively change people's minds (for such is nigh impossible) but we must take an active role in providing people with many different information resources that could lead them to change their minds on their own, in a place where their ignorance is not 'shamed' but rather, explored – in this, we are neutral: Our charge must be to provide people with the resources to inform themselves and as such, we cannot pass judgment on those coming to us seeking to learn.
What websites, apps, podcasts, or other resources would you recommend to explore?
From a knowledge perspective? Not quite sure – I'm a huge fan of historical and true-crime podcasts, so in the "history" category, I recommend "Lore," "Imagined Life," and "Disgraceland" – really compelling takes on learning more about history!
What is a book you like that you have to defend liking and what is a book you dislike that you have to defend disliking?
This may sound like a cop-out, but I don't embarrass anyone for their reading choices (myself included) – if you are reading, you are learning, so I would rather recommend people read as often and as many different types of books and genres as they can.
---
Special thanks to the Kent State University iSchool Alumni Network for coordinating these profiles. Learn more about the Alumni Network on their Facebook page and group. Students are welcome to join and participate.