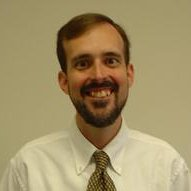 Tell us a little bit about your professional background and areas of focus.
It has been pretty varied! I have worked at both public libraries (Columbus, Westerville) and academic libraries (Amherst College, Gordon-Conwell Seminary, University of Connecticut), as well as in the Office of Research for OCLC. My research and teaching interests have included cataloging theory, emerging library technologies, virtual reference services, the history of the book (especially Renaissance and Early Modern), as well as music and art history.
Describe recent projects or research that you've been working on.
My recent book is the first complete handbook on library services for persons with dementia and their caregivers, from communication and public service to collection development, reference, and programming. Before that, I was completing a project on musical and liturgical inscriptions in early Sienese paintings.
What is your favorite part of teaching?
My favorite part is whenever I can see a student apply the course materials to their particular professional situation (especially if it helps them get a job or a promotion!!). It isn't just about the course readings, it is about applying that professional knowledge to professional service and to helping others.
Do you have a favorite teaching moment?
One time when I was teaching a course on Emerging Library Technology, a student came to me in the first week and asked if he could immediately change all of his written assignments for the course to fit the application for his dream job which had just been posted. We quickly agreed on a plan, and he emailed in the last week of classes to say he got the job…
How have your professional experiences influenced your teaching?
Active membership in, and service to, professional societies (ALA, ASIS&T, ALISE, PLA, LITA, etc.) has been one of the most important venues for meeting colleagues across the span of the profession, both for gaining breadth in my teaching, and also for improving my service every day as a librarian.
Do you have any advice for students?
Join your professional organizations (especially as student rates are so much better)!
What issues related to information interest you most?
My abiding interest across the courses I teach is to see the application of the best research as evidence for decision-making. We are information professionals, and we need to be immersed in the best evidence-based and peer-reviewed research into LIS user needs analysis, and technology, and research methodologies, and cataloging theory, but that immersion needs to be applied to our life as practitioners.
How do you like to spend time outside of work?
Cooking yummy, healthy, and new things for my family is my therapy, and my creative time to end the day.
What class(es) are you teaching this semester/next semester for Kent's iSchool?
Research Methods, and possibly Music Librarianship.