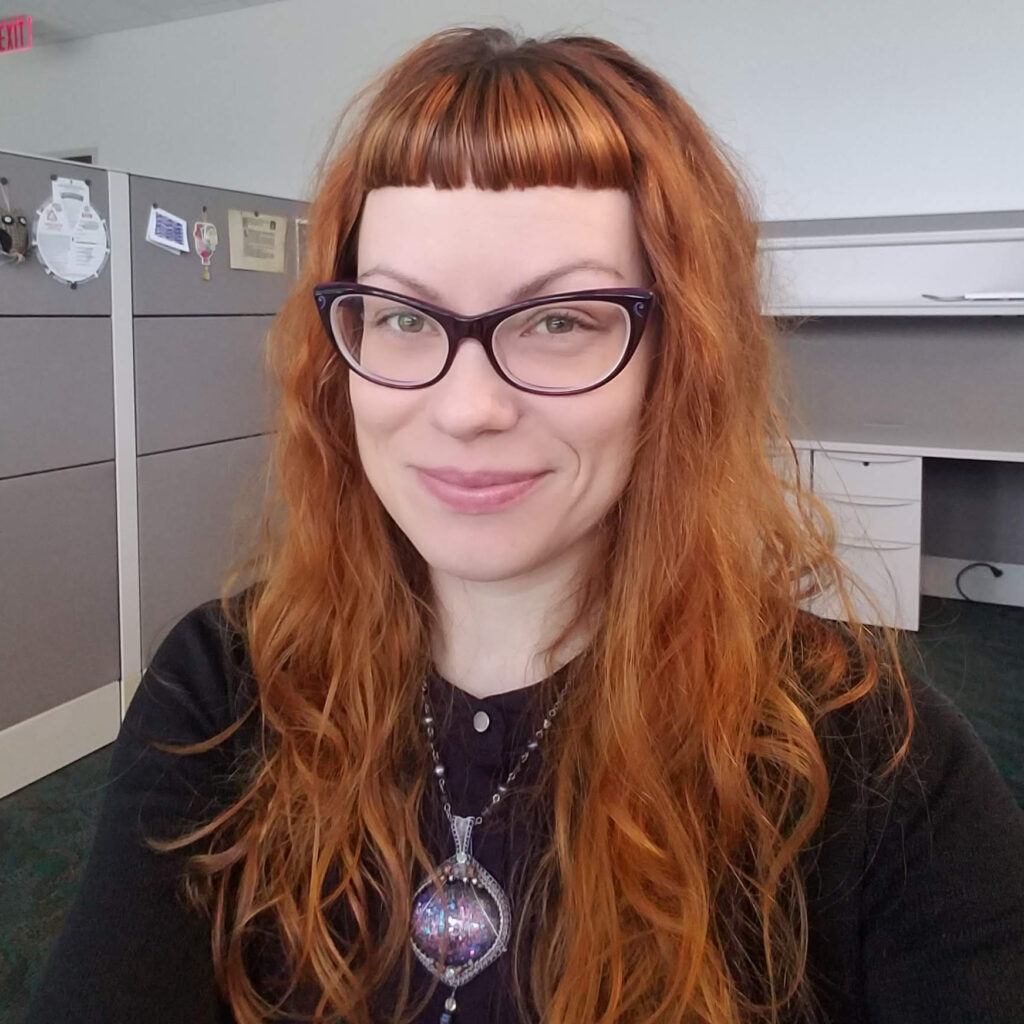 iSchool Graduation Date
2013
Professional Organizations/Affiliations
American Institute for Conservation (AIC), Southeast Regional Conservation Association (SERCA)
Current responsibilities/How are you using your information skills?
As an assistant conservator in a state archives (Georgia), I am responsible for gathering and analyzing temperature and humidity information from environmental data loggers to ensure a stable environment for our collection. I also conduct surveys to assess the preservation needs of the collection, including the degradation of the reference microfilm and identifying candidates for digitization and removal to a more appropriate storage environment. A good portion of my job is performing conservation treatments on collection items to provide access to and stabilize them for use by researchers. I also assist the Conservator with developing and maintaining policies and procedures for emergency preparedness, preservation, etc.
What is the best professional advice you can give?
It's the same advice that was given to me early in grad school: get out of your comfort zone when deciding on a specialty and try things you don't think you're interested in to make sure that's really the case. I thought for sure I was going to be a cataloger in a public library, since that's what I had done during my undergraduate program and really enjoyed it. Following this advice, I chose a practicum in digital preservation in an archives and loved it. When I started working in an archives shortly after, I was introduced to conservation and fell into my dream job!
How do you encourage innovative ideas?
By encouraging others to experiment and really explore their ideas no matter where it takes them, and by being open-minded about new ideas myself. We had an intern in the conservation lab this year that we were teaching bookbinding to and she was really disappointed with one of her books. Instead of giving up on it, we encouraged her to keep working with it and she ended up creating a small volume to collect sample materials in for reference during her conservation training. By continuing to work on the oddly shaped volume, she better understood how to work with complications a volume from the collection might have.
Do you have a mentor? How have they influenced you?
I have had several excellent mentors in both my library and conservation training. Sure they taught me the day-to-day specifics of the work, but they also taught me how to be an excellent leader by demonstrating patience, understanding and importance of the larger picture, and how to support other staff and departments within the institution.
What do you wish you had done earlier or more often?
I wish I had gotten more involved in professional organizations and networked with colleagues. By being on various boards, I feel like I've contributed to the profession in a meaningful way. I wish I could have broken out of my shell earlier so I wouldn't still be chiseling away at it.
How and where do you find inspiration?
Looking at leaders in the field of cultural heritage and adapting their ideas in ways that are attainable and/or appropriate for my institution. Looking at different fields and how their methods or materials might work for archives conservation. And talking with people I come in contact with from all kinds of professions to figure out how our careers and ideas might overlap.
To what values are you committed?
Dependability, Creativity, Growth, Dedication
How do you balance your work and home life?
Because the bulk of my job is treating collection items, much of my work physically stays at work. I am very passionate about what I do so it isn't a burden when these overlap. However, I am very aware of burnout and take steps to prevent it, such as spending quality time with my family, knitting, and reading novels.
What are some challenges that today's information professionals will face? And tomorrow's?
Funding will always be a challenge. When state and federal budgets get cut, cultural institutions are the first to feel it. My institution is an example of this that after the economic downturn from the pandemic we were asked to decrease our budget significantly. With very little fat to cut, the result was a few layoffs and several other positions remaining indefinitely vacant as well as deferred maintenance of our facility.
How can the library remain important to the community?
By helping the community understand that we are curating and caring for collections specifically for their use. As information professionals, we analyze the communities we serve and create programs and exhibits, highlight collections, etc. that we hope they will find interesting. We exist to serve them.
What websites, apps, podcasts, or other resources would you recommend to explore?
The C-Word is a podcast by conservators for conservators covering a broad range of topics from a real-life perspective. Sometimes brutally honest about the life and experiences of a conservator, I think this podcast would be of interest to anyone in the realm of preservation.
What is a book you like that you have to defend liking and what is a book you dislike that you have to defend disliking?
I am surrounded by open-minded people, so I don't have to defend liking anything I read. In fact, many of the books I read are recommendations from friends. One such recommendation was The Kingkiller Chronicle series by Patrick Rothfuss, which is amazing!

It's not so popular now, but I really disliked Fifty Shades of Grey. I was working in circulation in a public library when it came out and I decided I should read it to better understand the interests of our patrons. There was no suspension of disbelief for me and I struggled to finish it. The storyline seemed very flimsy and the characters totally unrelatable. I'm not against the genre, but I simply couldn't understand what made this series so worthy of being made into movies over the many other novels of its kind. I still regret the 20 minutes I spent trying to get into the first movie before finally giving up.
---
Special thanks to the Kent State University iSchool Alumni Network for coordinating these profiles. Learn more about the Alumni Network on their Facebook page and group. Students are welcome to join and participate.